Here are some popular types of guided tours in Cappadocia:
Hot Air Balloon Tours in Cappadocia:

Cappadocia is famous for its stunning landscapes, and a hot air balloon ride provides a unique perspective. Many operators offer sunrise balloon tours, allowing you to witness the surreal beauty of the region from above.

Red and Green Tours in Cappadocia:

These are full-day guided tours covering key attractions in Cappadocia. The Red Tour often includes Göreme Open Air Museum, Çavuşin, and Paşabağ (Monks Valley), while the Green Tour may take you to Derinkuyu Underground City, Ihlara Valley, and Selime Monastery.

Northern Cappadocia Tours in Cappadocia :

This tour typically covers attractions in the northern part of Cappadocia, including Göreme, Uçhisar Castle, and Devrent Valley.

Southern Cappadocia Tours in Cappadocia:

Explores the southern part of Cappadocia, including the fascinating underground cities like Kaymaklı or Derinkuyu, as well as the Selime Monastery.

Sunset Tours in Cappadocia:

Some tours focus on capturing the beauty of Cappadocian sunsets. These may include visits to panoramic viewpoints or unique landscapes during the evening.

Hiking Tours in Cappadocia:

Cappadocia is a great destination for hiking enthusiasts. Guided hiking tours can take you through scenic valleys such as Rose Valley or Love Valley, providing an up-close look at the unique rock formations.

ATV Tours in Cappadocia:

For those seeking adventure, ATV tours are a popular choice. Explore the rugged terrain and valleys on an all-terrain vehicle with a guide leading the way.
Our Red Tour Details in Cappadocia
Explore the wonders of Cappadocia with our Cappadocia Red Tour, also known as the Cappadocia North Tour. Our expert and licensed tour guides will accompany you throughout the journey, ensuring an enriching experience.
Tour Highlights:
Uçhisar Castle: Begin your adventure at Uçhisar Castle, perched atop central Cappadocia, offering mesmerizing panoramic views of the region's diverse landscapes.
Göreme Open-Air Museum: Immerse yourself in the rich history of Cappadocia at the Göreme Open-Air Museum, home to expansive monastic complexes and enchanting cave churches adorned with captivating paintings.
Love Valley: Discover the secret beauty of Love Valley, where unique volcanic rock formations, including pillar-shaped fairy chimneys, create a picturesque landscape.
Lunch: Indulge in a delicious meal served in a traditional local restaurant, providing a taste of authentic Cappadocian cuisine.
Avanos (Pottery Demonstration): Witness the skill of local artisans in Avanos as they showcase the art of ceramic and pottery making, a tradition dating back to the time of the Hittites.
Imagination Valley (Devrent Valley): Explore the whimsical Imagination Valley, filled with fairy chimneys that resemble animals and figures, sparking the imagination.
Paşabağ (Monks Valley): Marvel at the three-headed colossal fairy chimneys of Paşabağ, a site inspired by the hermits who once lived there, drawing inspiration from Saint Simeon.
Tour Logistics:
Pick-up Time: Between 09:30 and 10:00
Tour Duration: Approximately 7 hours, concluding around 16:30
Free of Charge: Children under 8 years old
Language: All tours conducted in your preferred language
Included:

Professional licensed tour guides
Pick-up & drop-off service with air-conditioned vehicles
Entrance fees to museums
Lunch in a traditional local restaurant
A half-liter bottle of water per person
Tax
Not Included:
Drinks at lunch
Personal expenses
Tips
Tips for a Better Experience:
Check the weather forecast and dress accordingly
Wear comfortable and slip-resistant shoes
Bring sunglasses and a hat, especially in summer
Carry money for personal expenses
Ensure your portable devices are charged
Embark on a journey of discovery, blending geological marvels with historical richness, on our Cappadocia Red Tour. Join us for an unforgettable exploration of this captivating region.
Book your green tour with us. +1 321 65582 35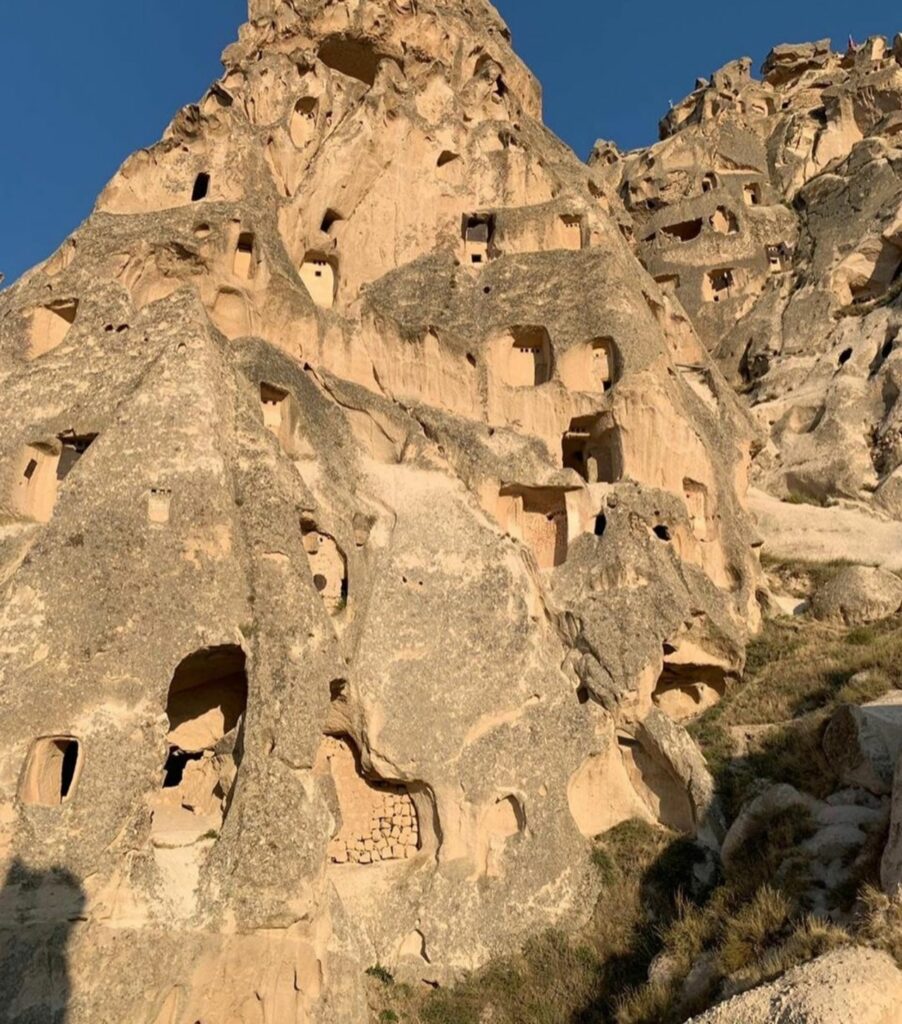 OUR GREEN TOUR IN CAPPADOCIA : Experience the Wonders of the Cappadocia
Embark on a journey filled with enchantment as you explore the captivating sites of Cappadocia on our Green Tour.
GOREME PANORAMA: Marvel at the breathtaking view of Cappadocia's iconic rock formations, a visual feast that will leave you in awe.
KAYMAKLI UNDERGROUND CITY: Delve into the depths of ancient engineering as you explore the largest temporary settlement of numerous local civilizations. This UNESCO member boasts over 4000 years of history.
PIGEON VALLEY: Capture the beauty of Pigeon Valley through your lens, where pigeons, pigeon houses, and Turkish blue stones adorned evil eye trees create a picturesque landscape.
LUNCH: Savor a delightful meal in a traditional restaurant, immersing yourself in the rich flavors of the region.
ONYX DEMONSTRATION: Discover the artistry of local Turkish stones in a captivating demonstration, adding a touch of cultural elegance to your journey.
SELIME MONASTERY: Witness the extraordinary Selime Monastery, intricately carved into a volcanic mountain. Revel in the panoramic views of a historical town with cave settlements and a unique castle.
IHLARA VALLEY: Embark on a leisurely walk through Ihlara Valley, where canyon hikes, cave churches, and oasis-like surroundings offer a serene and immersive experience.
Duration: From 9:30 am to 5:30 pm
Included:
Lunch
Professional licensed tour guides
Air-conditioned luxury vehicles
All museum entrance fees and taxes
Join us on the Green Tour for an unforgettable day filled with history, natural wonders, and cultural richness. Enjoy the experience of a lifetime!
Book your green tour with us. +1 321 65582 35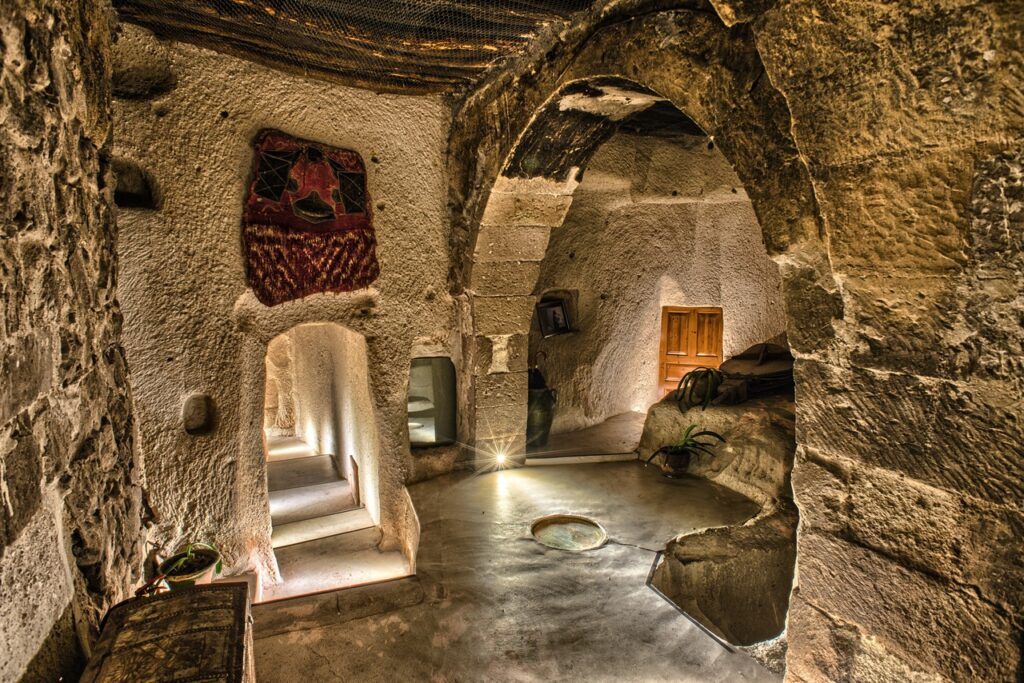 Must do list in Cappadocia
Cappadocia is a region in central Turkey known for its unique landscapes, fairy-tale-like formations, and rich history. Here are some must-do activities and attractions in Cappadocia:
Hot Air Balloon Ride: Take a hot air balloon ride at sunrise to witness the breathtaking landscapes from above. The fairy chimneys and unique rock formations make this experience truly magical. We book for you!
Göreme Open-Air Museum: Explore the Göreme Open-Air Museum, a UNESCO World Heritage Site, known for its rock-cut churches and monasteries with beautiful frescoes. We visit together in our red tour.
Hiking in the Valleys: Cappadocia offers several scenic valleys for hiking, such as Rose Valley, Love Valley, and Pigeon Valley. Enjoy the unique rock formations and landscapes along the trails. We gonna hike together in our daily tours.
Underground Cities: Discover the underground cities of Cappadocia, such as Derinkuyu and Kaymaklı. These ancient cities were carved into the soft volcanic rock and served as shelters during times of invasion. We will visit together with our tours.
Uchisar Castle: Visit Uchisar Castle, the highest point in Cappadocia, for panoramic views of the region. The castle itself is carved into the rock and offers a unique historical experience. We visit.


---

one of the our vehicles in Cappadocia for our daily tours

---

---

Pasabag (Monks Valley): Explore Pasabag, also known as Monks Valley, famous for its fairy chimneys and unique rock formations. Yes we see this place also together in our tours.
Avanos: Visit the town of Avanos, known for its pottery. You can watch artisans at work and even try your hand at pottery-making. YES we do.
Devrent Valley: Explore Devrent Valley, also known as Imagination Valley, where the rock formations resemble animals and fantastical creatures. YES we go there also.
Zelve Open-Air Museum: Wander through the Zelve Open-Air Museum, an abandoned cave village with rock-cut churches and dwellings.
Remember that the specific attractions and activities you choose may depend on your interests and the amount of time you have in Cappadocia. It's also a good idea to check the current status of attractions and activities, as conditions and offerings may change over time.
Book your hot air ballon tour with us also. 
Travel to Türkiye for 7 days and visit İstanbul and Cappadocia